2. Collect
Review your plan to make sure everything looks good, swapping out anything you don't like. Then, use the grocery list to shop for your ingredients.
You can get your groceries delivered through Instacart or Amazon Fresh to save more time!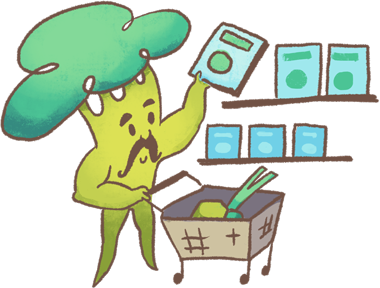 Everything You Need To Stay On Track
We Don't Just Work On Eat This Much,
We Use It Ourselves
We created Eat This Much with a simple goal in mind: help you create healthier eating habits by making it easy and enjoyable to manage your diet.
Our small but mighty team is obsessed with making Eat This Much better and we're constantly working on exciting new ways to help you get the most out of the product.
As an independent, founder-led business, we deeply appreciate all of our loyal customers, and we're always open to feedback. If you have questions or suggestions, please don't hesitate to reach out!
Do we have any dietitians on staff?
We've worked with dietitians to establish some of ETM's core principles, but we don't have any on staff full-time. To those that worked with us, thank you!
It's important to reiterate that Eat This Much is a tool for helping you get what you want out of your diet. We don't "prescribe" a diet or anything like that, and it would be disingenuous for any website or app to say that it can. Instead, we help you quickly create a meal plan within your own parameters (we suggest some basic ones, but you can change them to whatever you want), and then shop for and cook that meal plan. Basically, we strive to remove as much friction as possible from your quest to eat the way you want in order to reach your goals.